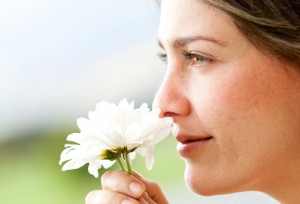 Individuals with chronic sinusitis frequently experience facial pain, persistent headaches, difficulty breathing, and an impaired sense of smell and/or taste. This condition, which affects approximately 31 million Americans, can greatly diminish quality of life on a daily basis. Fortunately, sinus surgery can alleviate the symptoms of chronic sinusitis by opening the obstructed passages for improved function and comfort. Now, with the revolutionary new PROPEL sinus implant, board certified otolaryngologist Dr. Gary Wiesman helps sinus surgery patients achieve vastly improved, long-lasting results at his state-of-the-art practice in Chicago, IL.
How Does the PROPEL Sinus Implant Work?
The PROPEL sinus implant is a spring-like, dissolvable implant that props open the sinus walls following surgery to maintain the opening created by the procedure. The expanded implant then gradually and consistently delivers an anti-inflammatory corticosteroid to the sinus lining, a proven medication called mometasone furoate.
As it reduces inflammation, the implant also ensures that the enlargement of the sinuses is maintained, all the while reducing the risk of scarring. Because the implant dissolves completely over time, there is no need to worry about having it replaced or removed. Always at the forefront of the latest technology, Dr. Gary Wiesman is one of only a few physicians in Chicago to offer this innovative new product, the PROPEL sinus implant. Board certified in both otolaryngology and facial plastic surgery, Dr. Wiesman can help you not only breathe better, but help you achieve your cosmetic goals as well so that you can look as good as you feel.
Additional Benefits for Sinusitis Sufferers
In addition to promoting improved healing following sinus surgery, the PROPEL sinus implant effectively reduces or eliminates the need for systemic anti-inflammatory medications in pill form. Many of these oral steroids have been linked to health complications, particularly in patients for whom a drug interaction is a potential risk. The implant's ability to deliver the anti-inflammatory medication directly to the sinus lining is among the product's chief benefits. Reducing swelling after sinus surgery helps alleviate the recurrence of congestion and pain.
Schedule Your Sinus Consultation Today
If you suffer from the symptoms of chronic sinusitis and your condition is negatively affecting your daily life, Dr. Wiesman wants to help. With the latest in state-of-the-art technology and decades of experience in his field, Dr. Wiesman is your premier destination for sinusitis relief with the PROPEL sinus implant. Contact us today to learn more about how the PROPEL steroid-releasing sinus implant can help you finally find lasting relief from chronic congestion, headaches, facial pain, and more.
Our Chicago, IL practice is privileged to welcome patients from throughout the surrounding areas, including Cicero, Berwyn, Summit, Oak Park, Forest Park, and beyond. Our team genuinely looks forward to serving you.