Achieve Transformative Eyelid Surgery (Blepharoplasty)
in Chicago
Several factors such as aging, sun damage, smoking, stretching, and obesity can cause the eyelids to droop and sag as the supporting tissues deteriorate. This area is often one of the first to deteriorate, as the skin of the eyelid is thinner than the rest of the face. Droopy eyes or eyes that bulge can cause people to appear much older or more fatigued than they actually are.
Blepharoplasty, also known as eyelid surgery (Eyelid Lift), is a surgical procedure that improves the appearance of the upper and lower eyelids by tightening muscles and tissue or removing excess fat and skin. This procedure can be performed on men and women alike and offers a younger, more refreshed look that reflects across the whole face.
Blepharoplasty is now the most popular facial plastic surgery procedure after rhinoplasty. The popularity of this procedure reflects the importance of the eyes in perfecting overall appearance. In fact, two-thirds of adults consider the eyes to be the defining feature of the face. If you are unhappy with the appearance of your eyes, you may want to consider blepharoplasty to improve your confidence.
Candidates
The best candidates for blepharoplasty are individuals who are in good overall health and who do not have any serious eye conditions. If you have loose, sagging skin or puffy bags around your eyes, this procedure will instantly make your eyes look younger and refreshed.
Procedure
The blepharoplasty procedure is performed under local anesthesia with sedation. General anesthesia may be used for anxious or nervous patients. Patients can choose to have this procedure on their upper eyelids, lower eyelids, or both. Depending on these choices, the procedure can take anywhere from 45 minutes to 2 hours.
If the upper eyelid is being treated, an incision is made along the natural crease of the eyelid. Once the incision is made, Dr. Gary Wiesman may reposition fat deposits, tighten muscles and tissue, or remove excess skin in order to leave the eye looking younger and refreshed. For the lower eyelid, an incision is hidden just below the lash line in order for excess skin to be removed.
Results
Results of a blepharoplasty procedure are visible as swelling and bruising subside and will continue to improve for up to a year after surgery. This procedure is designed to produce long-lasting results.
The scars from the blepharoplasty procedure are usually well-concealed and will fade with time until they are virtually unnoticeable. The incision is hidden in the crease of the eyelid in an upper blepharoplasty and just below the lashes in a lower blepharoplasty.
Understanding the Cost of Eyelid Surgery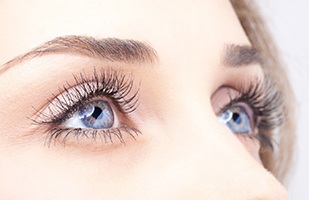 If you are considering eyelid surgery, it is understandable if one of the top questions you have is about cost. Unfortunately, we cannot provide an accurate estimate before you come in for a FREE consultation with Dr. Gary Wiesman, your facial plastic surgeon. In the meantime, however, we can explain what factors may affect the cost of blepharoplasty (commonly referred to as eyelid surgery) and discuss a few provisions that may help you to afford the procedure. Dr. Wiesman wants you to be able to get the high-quality, transformative care that you deserve!
Factors that Affect the Cost of Eyelid Surgery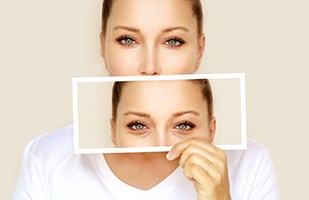 In 2020, the average cost of eyelid surgery was just over $4,000 (according to a statistic from the American Society of Plastic Surgeons). Of course, every patient is unique, so your procedure could cost less than that — or it might cost more.
One of the primary determining factors when it comes to price is the extent and complexity of the surgery. Logically, getting just your upper or lower eyelids done will cost less than getting both worked on. Similarly, if you have anatomical factors that make your procedure more time-consuming than average, you can expect a higher fee.
It's also important to keep in mind that your surgical fee won't be the only cost associated with your procedure. You might also have to pay for:
Sedation and/or anesthesia
Hospital or surgical facility fees
Medications related to your procedure
Once Dr. Wiesman has an idea of what type of procedure you need, our team will be able to help you understand the estimated costs for each part of your eyelid surgery journey.
Does Insurance Cover Eyelid Surgery?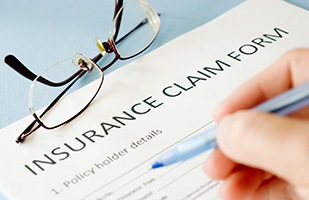 In many cases, eyelid surgery is purely for cosmetic purposes and as such, is not covered by insurance. However, if drooping skin on your upper eyelid is interfering with your vision, your policy may step in to cover at least a portion of your fees.
Our practice accepts payment from most major insurance carriers, and we can help you navigate the ins and outs of your policy. We can also give you advice for how to get pre-authorization for your blepharoplasty. For example, you might need to visit a vision specialist and send photos of your eyelids to your insurance company.
Affording Your Eyelid surgery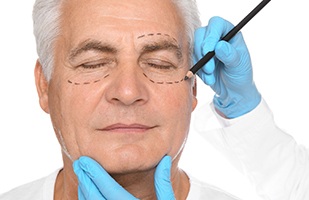 In addition to assisting you with insurance, we offer a few other provisions that may help you afford your blepharoplasty: