Breathe & Feel Better
In-office Balloon Sinus Dilation in Chicago
Balloon sinus dilation is a minimally invasive procedure to treat sinusitis. It is a quick, convenient treatment that can be performed in our office. The goal of the procedure is to gently reshape nasal anatomy to expand sinus pathways, restore drainage, and provide relief from the symptoms of sinusitis.
How Balloon Sinus Dilation Works:
The procedure utilizes a small balloon placed in key areas of the nose and sinus, which is then inflated to expand the sinus pathways. It may be an effective, lasting option for some patients whose symptoms are not resolved with medication.
The benefits of in-office balloon sinus dilation include:
Instant, lasting relief
A convenient, comfortable in-office procedure
Quick recovery—most patients return to normal activity in 24 hours
The possibility of reduced healthcare costs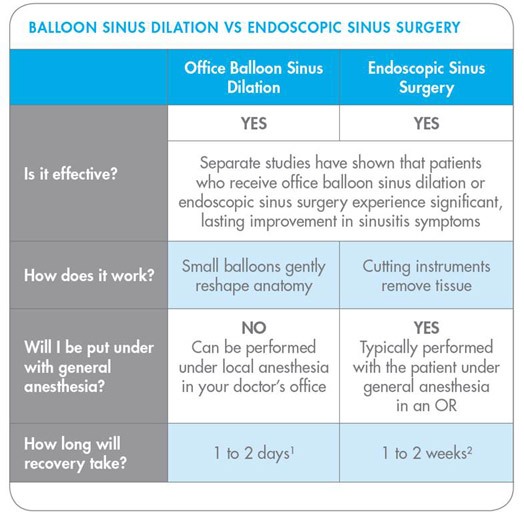 1Stankiewicz J, Truitt T, Atkins J, Winegar B, Cink P, Raviv J, Henderson D, Tami T. Two-year results: transantral balloon dilation of the ethmoid infundibulum. Int Forum Allergy Rhinol. 2012 May;2(3):199-206.
2 Kemppainen TP, Tuomilehto H, Kokki H, Seppä J, Nuutinen J. Pain treatment and recovery after endoscopic sinus surgery. Laryngoscope. 2007 Aug;117(8):1434-8.