Meet Chicago's Trusted Plastic Surgeon
Gary G. Wiesman, M.D., F.A.C.S.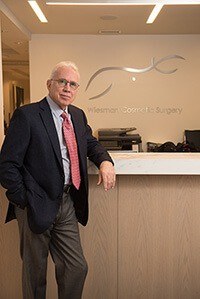 Physicians like Dr. Gary Wiesman, who combine outstanding surgical technique and artistry, are very rare.
Educated as an otolaryngologist specializing in ear, nose, and throat surgeries, Dr. Wiesman continued his training and became a facial plastic surgeon as well. With his knowledge of structural physiology, he successfully combines proper structure with aesthetics. The outcome is better breathing and a more natural look.
Dr. Wiesman is a board-certified physician. He trained at Loyola University and Northwestern Memorial Hospital in Chicago, Illinois and has been practicing for over 25 years.
His new "state-of-the-art" facility in Chicago's Gold Coast offers a professional and tranquil environment for his patients. Located at 712 North Dearborn, the facility houses two fully accredited operating suites, a recovery room, and examination rooms. Dr. Wiesman has a Board-Certified Anesthesiologist and registered nurse as part of his surgical team. Since both the facility and professional team are in the Wiesman Institute building, it is very convenient for his patients.
Dr. Wiesman looks forward to your inquiries and invites you to view the before-and-after photos he has compiled for your review.
Professional Accreditation
Board Certified by the American Academy of Facial Plastic and Reconstructive Surgery
Board Certified by the American Board: Otolaryngology and Head & Neck Surgery
Professional Education
Northwestern University, Residency in Otolaryngology and Head & Neck Surgery, Facial Plastic Reconstructive Surgery
United States Navy
Residency: Cook County Hospital in General Surgery
Internship: Cook County Hospital in General Surgery
M.S., M.D.: Loyola Medical School, Chicago
B.S.: Washington University, St. Louis, Missouri
Fellowships and Memberships
Fellow, American College of Surgeons
Fellow, American College of Facial Plastic Reconstructive Surgery
Fellow, American Academy of Cosmetic Surgery
Member, Chicago Medical Society
Member, Illinois State Medical Society
Hospital Affiliations
St. Elizabeth Hospital, 1431 N. Claremont Ave., Chicago, IL
St. Mary of Nazareth Hospital, 2233 W. Division St., Chicago, IL
St. Joseph Hospital, 2900 N. Lake Shore Drive, Chicago, IL
St. Anthony Hospital, 2875 W. 19th. St., Chicago, IL


More to Explore