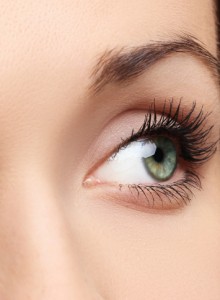 As the skin of the face ages, it naturally begins to lose elasticity. Loss of elasticity results in a sagging, drooping appearance; this is particularly noticeable in the delicate area of the eye. Eyes affected by hooded upper lids and bulging lower lids appear extremely tired and aged beyond their years. At the Chicago, ILcosmetic surgery office of Dr. Gary Wiesman, patients seeking a more youthful look and increased self-confidence can recapture the fresh faces of their youth with a procedure called blepharoplasty. The blepharoplasty procedure is designed to promote long-lasting, natural-looking results, and has been proven both safe and effective.
How Can a Blepharoplasty Benefit Me?
Excess skin in the upper lids can give the eyes a hooded effect and, in severe cases, may even impair vision. Fatty deposits and loose skin under the eyes lead to a drooping, baggy appearance that many associate with advanced age. Unfortunately, it isn't only elderly men and women who experience these issues. In fact, many individuals as young as 35 may notice that their eyelids are negatively affected by lack of elasticity and the constant forces of gravity. With blepharoplasty – also called an eye lift or eyelid surgery – Dr. Gary Wiesman can bring back the youthful look of your eyes and rejuvenate your overall appearance.
The Eye Lift Process
A blepharoplasty may be performed to improve the appearance of the upper or lower eyelids, or both at the same time. The surgery typically takes between 45 minutes and two hours to complete and is usually performed with local anesthetic and sedation to ensure total patient comfort. Incisions are made in the natural creases of the eyelid tissue so there are no visible scars upon healing. Results are immediately visible after swelling has diminished and continue to improve over the course of the following year. Enjoy a fully refreshed, younger-looking appearance for years after your procedure with an eye lift surgery, a treatment that is customized and meticulously performed with your unique needs in mind.
Schedule Your Complimentary Cosmetic Eye Lift Consultation
Clear, bright, and healthy eyes are among the most vital components of an attractive face. If you feel that excess skin, sagging muscle, and fat deposits in your upper or lower eyelids are detracting from your natural beauty, we can help. Contact us today to schedule your free consultation with Dr. Gary Wiesman and his caring, experienced cosmetic surgery team. We sincerely look forward to helping you reclaim your youthful appearance with an extensive range of cosmetic treatments, including blepharoplasty. Our conveniently located practice in Chicago, IL is privileged to serve patients from throughout the surrounding areas as well, including Summit, Oak Park, Forest Park, Berwyn, Cicero, and more.