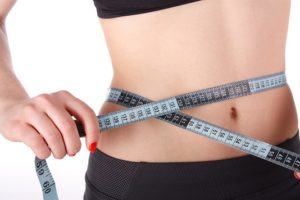 As the holiday season approaches, you want to look and feel your best for family gatherings and celebrating with friends. However, stubborn body fat may be holding you back from feeling confident about your appearance. When diet and exercise have not helped you achieve the results you want, it is easy to feel disappointed and insecure. Now, you can transform your body just in time for the holidays with Vanquish™ in Chicago.

Get Rid of Unwanted Body Fat
When considering procedures for fat loss in Chicago, you have many options, such as liposuction. While they are effective and will produce noticeable results, they tend to be invasive and there are several risks involved. Now, you can say goodbye to unwanted body fat without surgery or an invasive procedure.
The Vanquish™ system melts away stubborn fat with a simple and effective treatment. Using radio frequency (RF) waves, the fat cells are destroyed. This revolutionary new procedure offers precision and accuracy so you do not have to worry about damaging healthy tissues.
If you are within 10% of your healthy weight and maintain a balanced diet with regular exercise, you may be the ideal candidate for this treatment. It can be done on several areas of the body, including the abdomen, thighs, buttocks, legs, back as well as those dreaded love handles.
Transform Your Body with Vanquish™
Vanquish™ is the perfect solution to trim fat from the legs, thighs, abdomen, back and other areas without a scalpel or sutures. The procedure is comfortable and effective due to the use of heated radio frequency waves. You may feel a slight warming sensation as the fat cells are targeted, but there will be no pain, discomfort or recovery time.
After an initial consultation, Dr. Gary Wiesman will create a customized treatment plan to help you reach your desired results. On average, two to four treatment sessions are needed, with each one lasting less than an hour. In as little as two appointments, you can start to see inches vanish from the treated areas as your unwanted body fat melts away.
This safe and comfortable procedure is the perfect alternative for those who want a noninvasive approach that provides fast results. As an FDA-approved technology, you can rest assured that the treatment is safe.
Get a Slim Body Today
If diet and exercise have not been enough to get rid of unwanted body fat, you can get the slim look you want just in time for the holidays. Choose a noninvasive and effective solution with Vanquish™.
About Dr. Gary Wiesman
Dr. Gary Wiesman is a trusted surgeon in the Chicago area. In addition to specializing in ear, nose, and throat surgeries, he is also a board-certified facial plastic surgeon. His specialty is performing nose jobs that make his patients not only look better, but also breathe better. As a board-certified physician in practice for over 25 years, he provides safe and effective treatments to help you look and feel your best. As the only physician in Chicago to offer Vanquish™, he can answer any questions you have about this revolutionary new treatment.
Contact Wiesman Nasal and Sinus to schedule your FREE consultation for Vanquish™.