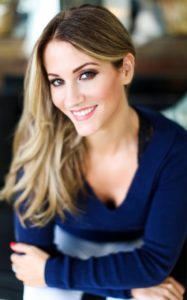 At Wiesman Nasal and Sinus, we strive to provide our patients with the latest treatments and procedures to improve their quality of life. To extend the services in our office, we are excited to announce that a licensed esthetician has joined our team. Sarah Levonyak is now affiliated with Wiesman Nasal and Sinus to meet your skincare needs. In addition to enjoying the benefits of Vanquish™ in Chicago, you can now choose from several specialty skincare treatments as well as professional skincare products offered by Sarah.

Meet Sarah Levonyak
After graduating from the Elizabeth Grady School of Esthetics, Sarah has worked as a trusted esthetician for the past 10 years. During this time, she has had the opportunity to work in many luxury spas before joining our team at Wiesman Nasal and Sinus. She strives to build personal relationships with her patients to provide the individualized solutions they need to look and feel their best.
Supported by extensive training and experience, she offers an array of skincare procedures, including:
Customized Facials: This custom facial treatment begins with a complete skin analysis and includes a thorough cleansing, exfoliation, serum, moisturizer and mask. Diminish fine lines, refine pores and restore your youthful radiance.
Dermaplaning: 2-in-1 exfoliation procedure will not only brighten dull skin but also remove unwanted fine hairs from the face.
Chemical Peels: This is the perfect solution to reduce the appearance of sun damage, wrinkles, and acne scaring. Your skin will have a smooth and silky texture.
Microneedling: Also known as Collagen Induction Therapy, stimulates the growth of collagen and elastin, which is the key to new, youthful-looking skin.
Microblading: Semi-permanent tattooing technique uses hand-drawn strokes to mimic natural hairs. Your eyebrows will appear thicker and fuller – revamping your confidence.
Brow and Lash Tint: Using a product that is safe for both eyes and skin, your brows will appear fuller and more defined, and your lashes will be noticeably darker and longer.
Waxing: Say goodbye to unwanted body hair without razors or nicks for smoother, sleeker skin.
Vanquish™: Enjoy a pain-free, no-surgery approach to melt away body fat with proven radio frequency technology that destroys fat cells.
Special Offer Below
Enhance Your Confidence With This Special Offer
With summer well underway, now is the time to invest in your confidence to look and feel your best. In addition to the variety of new services offered by Sarah, we are excited to announce a special introductory offer to remove unwanted body fat. Through August 31st, you can enjoy $500 off a Vanquish™ package.
Join Wiesman Nasal and Sinus as we welcome Sarah Levonyak to our office.
About Dr. Gary G. Wiesman
Dr. Gary G. Wiesman is a trusted facial plastic surgeon in the Chicago area. In addition to specializing in ear, nose, and throat surgeries, he is also specially trained in various cosmetic procedures as well. He embraces the latest advancements to provide his patients with superior results using proven technology. If you are ready to say goodbye to unwanted body fat, take advantage of our special Vanquish™ offer and save $500 off a treatment package. Contact Wiesman Nasal & Sinus today to see if you are a candidate for this fat-reduction procedure.