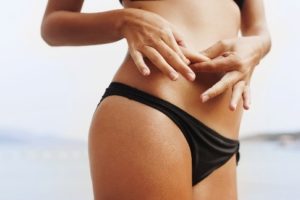 As the temperature finally starts to warm up in Chicago, you plan to spend plenty of time outside and poolside; however, there is one thing that may be preventing you from feeling confident—unwanted body fat. During the winter, it is common to put on a couple of extra pounds, which can leave you feeling insecure about your appearance. Although you could spend several months dieting and exercising, you may still not achieve the results you want. Vanquish™ is a simple and noninvasive procedure to help you get beach-body ready in just a few short weeks.

Reduce Unwanted Body Fat Quickly
Vanquish™ is a groundbreaking technology that allows you to say goodbye to unwanted body fat without an invasive surgery. This treatment simply melts away body fat in your problem areas using radio frequency waves. The waves destroy the fat cells and do not cause any harm to the skin or the surrounding tissues. Vanquish™ can be used to treat an array of troublesome areas, including the upper arms, abdomen, legs, thighs, back, buttocks, and more. After your sessions are complete, you can see as much as 1 to 3 inches of unwanted body fat disappear.
Choose a Noninvasive Solution
There are several procedures available to remove body fat, like liposuction. While they are effective, they are invasive and require a lengthy recovery time. With Vanquish™, you can get the results you want using a painless procedure that does not involve incisions, sutures, or a recovery period.
About Dr. Gary G. Wiesman
Dr. Gary G. Wiesman is a trusted facial plastic surgeon in the Chicago area. In addition to specializing in ear, nose, and throat surgeries, he is also specially trained in various cosmetic procedures as well. He embraces the latest advancements to provide his patients with superior results using proven technology. If you want to slim down for summer, Dr. Wiesman can help with Vanquish™.
If you are ready to say goodbye to unwanted body fat just in time for summer, it is time to see if Vanquish™ is right for you. Contact Wiesman Nasal & Sinus today to see if you are a candidate for this fat-reduction procedure.