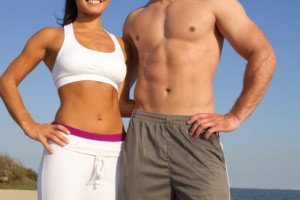 For both Men and Women
FDA Approved
Removes Fat From the Midsection, Back, Love Handles, Thighs and Legs
If you are one of the millions of Americans struggling with excess fat around your midsection, back, love handles, thighs or legs, it's likely that you have tried a variety of weight-loss methods over the years. From restricting your diet and incorporating exercise to spending money on supplements that promise amazing results, you've done everything you can to rid your body of stubborn fat to no avail. Now, thanks to the proven technology of the BTL Vanquish™, you can shed inches from your waist and love handles in mere weeks without so much as even one incision. The Vanquish™ system utilizes a focused-field radio frequency to destroy fat cells painlessly without having to touch the skin. If it sounds too good to be true, we invite you to read on and discover how truly easy it can be to slim down without surgery at the Chicago, IL office of Dr. Gary Wiesman.
The Slimmer, More Attractive Body You Deserve
Unlike liposuction and other fat loss methods, Vanquish™ is completely non-invasive, offering superior results with no incisions, no discomfort, and no downtime. Simply lie back and relax as the focused heat targets fat cells beneath the skin; each session takes only 30 minutes, and the only aftereffect is a moderate feeling of warmth that subsides shortly after the treatment.
Though the technology is relatively new, it has already been approved by the FDA for deep tissue heating. Patients who have experienced the procedure compare the sensation to that of a comfortable heating pad or a warm blanket. According to the system's manufacturer and research following the launch of Vanquish™, there have been no incidences of side effects commonly seen with other fat loss methods. Enjoy two to three inches of fat lost from around your midsection within weeks, all without fear of damage to skin, nerves, hair follicles, muscles, and other underlying tissues. It is the most effective, non-invasive fat loss system available today, and it's available to you at the Chicago office of Dr. Gary Wiesman.
Vanquish Body Fat Fast in Chicago, IL
Dr. Wiesman is the only physician in Chicago with this revolutionary machine and technology. Take advantage of the Vanquish™ system's benefits today and experience what so many men and women have already discovered: a completely non-invasive, pain-free fat loss method that promotes fast, long-lasting results with zero downtime. If you are ready to see what your body can look like with up to 60 percent fewer fat cells, call us today at (312) 981-1290 to schedule your consultation with Dr. Wiesman.
Our experienced, highly trained team looks forward to helping you achieve your fat loss goals with the most advanced, proven-safe technology available in the industry. Conveniently located in Chicago, IL, our office warmly welcomes patients from surrounding communities in Forest Park, Oak Park, Summit, Berwyn, Cicero, and beyond.