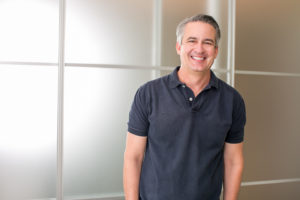 As a man, you work hard to provide your family with the best. While you focus on their needs, your own often fall to the bottom of the priority list. As Father's Day approaches, take time to invest in yourself! Since 60 is now the new 40, you don't have to look your age if you don't want to. You can restore a youthful appearance by treating yourself with an array of cosmetic procedures. If you want BOTOX®, Cosmetic Fillers or Rhinoplasty in Chicago, Dr. Gary Wiesman can help.

Services for Men
Often, it is believed that cosmetic services are only for women, but this is not true. Men can benefit from them as well. Dr. Wiesman has the services and technology you need to improve your appearance and confidence. He will create the customized treatment plan that you need to look and feel your best. Depending on the results you want to achieve, you can benefit from one or more procedures, including:
Chin Implants
If you want a stronger chin or profile, chin implants can help. An implant can promote a more balanced facial appearance while achieving natural-looking results in as little as 30 minutes.
Rhinoplasty
Rhinoplasty can reshape, reduce, or enhance the appearance of your nose to promote your facial harmony. A nose job can also be performed to correct certain defects and improve your ability to breathe easier.
BOTOX® and Cosmetic Fillers
Dermal fillers and BOTOX® can help turn back the hands of time by reducing the appearance of wrinkles and fine lines. You can say good-bye to wrinkles between your eyebrows (those dreaded "11" frown lines) or on your forehead. BOTOX® can also be used to reduce migraine headaches, excessive sweating, and muscle spasms.
Otoplasty
If your ears are larger than average, are protruding or have an abnormal shape (cupped look), otoplasty can improve their appearance. Also, if your earlobes are stretched or creased, they can be surgically corrected.
Vanquish™
Get rid of your love handles and enjoy a more toned look with Vanquish™ – a painless fat-melting treatment. As an alternative to liposuction, you will achieve noticeable results without anesthesia or surgery.
Invest in Yourself Today!
This year take the time to treat yourself to cosmetic procedures that can help you look younger and restore your confidence. After an initial consultation and discussing your desired results, Dr. Wiesman will create a customized treatment plan that is right for you.
About Dr. Gary G. Wiesman
Dr. Gary G. Wiesman is a trusted facial plastic surgeon in Chicago. With more than 25 years of experience, he offers cosmetic and corrective procedures for both men and women. Supported by extensive training and qualifications, he can help you achieve natural-looking results when improving your appearance. Using state-of-the-art procedures and techniques, you can rest assured that you are in good hands. If you are ready to invest in your confidence just in time for Father's Day, contact Wiesman Nasal & Sinus today to schedule your consultation.