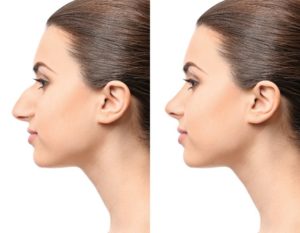 When you look in the mirror, does your focus instantly turn to your nose? If your nose is not becoming to you, then you should be coming to Dr. Gary Wiesman. You do not have to live with what nature gave you. You can improve your confidence and feel secure about your appearance with Rhinoplasty in Chicago. The cosmetic surgical procedure is effective for correcting an array of imperfections, which is why more than 200,000 people choose to have rhinoplasty every year. You can have the balanced, symmetrical nose you have always wanted with the help of Dr. Wiesman, who is double board certified in facial plastic surgery and otolaryngology (ear, nose and throat).

How Can Rhinoplasty Help Me?
Rhinoplasty is more commonly referred to as a "nose job." It is used to create the correct balance and proportion among your facial features. By reshaping the tissue, it can resolve several issues that impact your self-esteem, such as:
Size, angle, or width of the nose
Enlarged, drooping, upturned, or hooked nasal tip
Large, wide, or upturned nostrils
Dorsal hump – visible "bump" on the bridge of the nose
What Can I Expect During the Consultation?
To ensure you are a candidate for the procedure, you will need a consultation with Dr. Wiesman.  He will examine your nose and take the time necessary to answer all of your questions during your complimentary cosmetic consultation.
Invest in Your Confidence
If you are not in love with your nose, you can get the results you desire with Dr. Wiesman, your facial plastic surgeon in Chicago. He combines structure with aesthetics to give you a natural look. If you are ready to boost your confidence with a nose job, Dr. Wiesman can help.
About Dr. Gary Wiesman
Dr. Gary Wiesman is a knowledgeable, highly trained facial plastic and reconstructive surgeon.              Dr. Wiesman is also a recognized revision-rhinoplasty specialist; helping patients who have had previous nose surgery achieve the cosmetic results they desire with improved breathing function.  Contact our office today to schedule your complimentary cosmetic consultation.