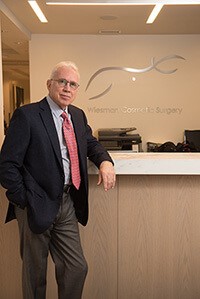 As the holidays approach, Dr. Gary Wiesman and his staff at Wiesman Nasal & Sinus would like to thank you for placing your trust in us. At Wiesman Nasal & Sinus, our patients are the heart and core of our practice. We make it our mission to deliver high-quality care to enhance your life.

We pride ourselves in having the latest technology so we can continue to provide treatments that improve both outcomes and experiences for our patients. If you suffer from sinusitis, we offer in-office balloon sinus dilation to help relieve symptoms immediately.
For your convenience, we have an on-site sinus CT scanner so that if needed, Dr. Wiesman can begin treatment right away – no waiting for results.
Dr. Wiesman is the only physician in Chicago to offer Vanquish™, a painless fat-melting technology that removes fat from the midsection, back, love handles, thighs and legs.  This treatment does not require any surgery or downtime.
As another year comes to an end, Dr. Wiesman and his team want to thank you for choosing Wiesman Nasal & Sinus. As a trusted and reputable board-certified facial plastic surgeon and otolaryngologist in Chicago, Dr. Wiesman looks forward to exceeding your expectations in the upcoming year for rhinoplasty, cosmetic and sinus procedures.
From all of us at Wiesman Nasal and Sinus, we wish you a happy holiday season and a healthy new year!