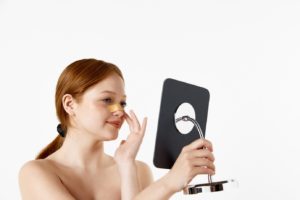 When you undergo any type of surgical procedure, you can expect to go through a recovery period. Some surgeries come with a short and easy healing process, while others take longer to bounce back from. What exactly can you expect while recovering from facial plastic surgery? This brief guide provides valuable information.
Rhinoplasty
Rhinoplasty, which is popularly referred to as a "nose job," may require you to take 7 – 10 days off of work. Thereafter, you will be able to gradually resume your normal activities. After 4 – 6 weeks, you may be able to start engaging in vigorous physical activity again, including sports that come with a risk of nose injury (as long as you wear proper protective gear). Minor swelling from your procedure could persist for up to one year.
Eyelid Surgery
If you undergo eyelid surgery (blepharoplasty), you will probably be able to go back to work within 5 – 10 days. Some bruising may hang around for a few weeks, but you should be able to disguise it with a bit of well-placed makeup. You may be able to resume vigorous exercise about 2 – 4 weeks after your procedure. These recovery estimates hold true whether you have surgery for your upper or lower eyelids.
BOTOX and Fillers
BOTOX and dermal fillers are among the least invasive services offered by facial plastic surgeons. Since these procedures do not require any incisions, they come with virtually no downtime; you should be able to jump back into your normal routine right away. However, some patients experience noticeable bruising and swelling. These issues usually resolve within a few days, but they could persist for a couple of weeks in some cases.
Tips for a Smooth Recovery
Regardless of which facial plastic surgery you undergo, there are some steps you can take to facilitate an easy and fast recovery:
Follow your surgical team's instructions. They might urge you to take certain medications, get plenty of rest, and more.
Avoid the use of nicotine. Tobacco products can slow down your body's ability to heal.
Fuel your body. Eat lots of nutrient-rich foods and be sure to stay hydrated.
Stay lightly active. Intense physical activity may be off-limits following your procedure, but if your surgeon allows, try to engage in light exercise each day. For example, you could go for a pleasant walk or do some easy chores around the house.
Keep an eye out for problems. If you experience extreme discomfort, signs of infection, or other red flags following your surgery, call your doctor's office right away.
Recovering from facial plastic surgery takes a bit of time. Before you know it, though, you will be able to fully enjoy the benefits of your procedure.
Meet the Practice
Dr. Gary Wiesman is a board-certified physician who specializes in facial plastic surgery. He is proud to offer rhinoplasty, blepharoplasty, and a range of other procedures that can enhance patients' faces and potentially improve their quality of life. If you have questions about what to expect after any of the surgeries available from our team, contact our office at 312-796-5550.