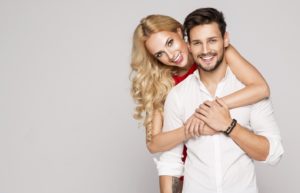 Many of the most popular New Year's resolutions relate to appearance. For example, millions of people want to lose weight and achieve a "bikini body." But since your face is the first thing people notice about you, doesn't it also deserve some attention? To look and feel your best in 2022, you may want to visit Dr. Gary Wiesman, your trusted facial plastic surgeon. Let's talk about some popular cosmetic services that may help you look and feel fantastic in the new year.
Rhinoplasty
Rhinoplasty, colloquially known as a "nose job," is a common but powerful procedure that can have a dramatic impact on your facial appearance. It can do things like straighten your nose, remove a bump, make it narrower, or even adjust the size and shape of your nostrils. Recovery from rhinoplasty usually takes just a few weeks, so it presents a quick and permanent way to put your best face forward in 2022.
Earlobe Repair
If you feel self-conscious about your earlobes, you may try to hide them with your hair or a hat — but there is a better solution. Earlobe repair is a minimally invasive procedure that can correct issues like stretched or droopy earlobes. It also can correct enlarged or split earring holes, as well as repair an earlobe that was permanently altered by ear gauges. The procedure is usually quick and done under local anesthesia, so no extended recovery time is necessary.
Eyelid Surgery
The eyelid skin is thin and delicate, meaning that it is one of the first areas of the face to show the signs of time. Aging, obesity, smoking, sun damage, and other factors can all accelerate and exacerbate the damage. If your eyelids have begun to sag, you may benefit from blepharoplasty, also known as an eyelid lift. Dr. Wiesman can lift the skin, making your eyes appear bigger and more wide-open. Since your eyes are one of the first features that people notice about you, this procedure is a worthwhile investment for anyone who is looking to transform their appearance in 2022.
BOTOX®
If the idea of "going under the knife" is something that you're not quite ready for, that's understandable. You may want your first foray into cosmetic surgery to be something simpler, like BOTOX®. BOTOX® relaxes the muscles that cause wrinkles to form when you make facial expressions, resulting in smoother skin and a younger appearance (while still allowing you to smile and frown with ease). You'll need to request an appointment for BOTOX® touchups a few times a year in order to maintain your results.
You should love what you see in the mirror. Dr. Wiesman can help you look and feel amazing as you enjoy all that 2022 has to offer.
Meet Dr. Gary Wiesman
Dr. Gary Wiesman is double-board certified and is one of Chicago area's most accomplished facial plastic surgeons. He performs a broad range of facial procedures, including those with medical and cosmetic objectives. To learn more about how he may be able to serve you, contact our office at 708-716-8098.