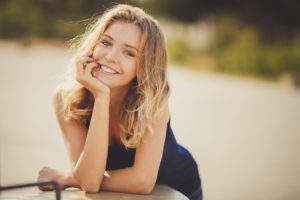 With the worst of the COVID-19 pandemic behind us, this summer is shaping up to be a season of mask-free fun. Whether you plan to go on vacation, lounge by the pool, or enjoy the wonderful culture in our city, there are bound to be lots of photo ops in the near future. Do you want to look your best this summer? If so, now is the perfect time to book an appointment with Dr. Gary Wiesman, your trusted facial plastic surgeon. Let's talk about a few cosmetic services that you might benefit from.
BOTOX® is a minimally invasive treatment to limit muscle movements. It thereby reduces movement-based wrinkles and can help you look years younger. It is great for:
Your forehead
The corners of your eyes
Between your eyebrows (the dreaded "11's")
And the parts of your face that have been hidden under a mask for the past two years — including the lines around your mouth.
There is little or no downtime with BOTOX®, so it will have minimal impact on your summertime plans.
Like BOTOX®, facial fillers address wrinkles. However, instead of limiting muscle movements, they add volume beneath the skin to give your face a plumper, more youthful appearance. There are several types of facial fillers. Dr. Wiesman can help you compare the pros and cons of the various products that are available. They are great for addressing gravity-based wrinkles as well as issues like nasolabial folds, thin lips, and sunken cheeks.
If your nose is not becoming to you, then you should be coming to Dr. Wiesman. If your nose is a point of self-consciousness, you might have actually enjoyed wearing a mask in public. Now, though, with masks becoming purely optional in most places, your nose is ready to see daylight again. If there is anything about its shape or size that you dislike, Dr. Wiesman will be able to make some changes to it and help you go mask-free with confidence. Rhinoplasty (a nose job) is more invasive than BOTOX® and fillers, so you may need to carve out some time in your schedule to recover, but you will love your final results!
Your ears have done a lot of work in the past two years — they have kept your mask in place for hours on end! If you are not happy with their appearance, why not give them a little TLC? Surgeries like ear pinning, earlobe repair, and other procedures can enhance their appearance and turn them into the ideal frame for your gorgeous face. Ear surgeries have varying restrictions and recovery times — Dr. Wiesman will be sure to discuss all relevant details with you.
Are you ready to enjoy summer to the fullest? Looking your best with the help of a facial plastic surgeon can help you do just that. Why not schedule an appointment today?
Meet the Facial Plastic Surgeon
Dr. Gary Wiesman is a board certified and highly experienced facial plastic surgeon in the Chicago area. He is passionate about the art and science of what he does, and he is committed to creating a positive experience for each patient. He offers BOTOX®, cosmetic fillers, rhinoplasty, ear repair, and many other cosmetic services. To learn how he may be able to help you, contact our office at 708-716-8098.