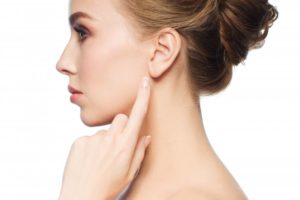 Although your ears may not be the most predominant feature of your face, they still have a large impact on your appearance. They are even more noticeable now because people are wearing masks and hiding their mid-and lower face. Read on to learn about four popular cosmetic ear procedures offered by Dr. Gary Wiesman, double board-certified facial plastic surgeon and otolaryngologist.
Otoplasty
Otoplasty — also known as cosmetic ear surgery — is a procedure to change the shape, position, or size of the ear to dramatically improve its appearance.
Your ears can impact your overall facial appearance by making your other facial features look disproportionate if they…
Are too large or too small
Protrude from your head
Are misshapen (also referred to as an ear deformity)
Protruding ears are one of the most common birth abnormalities in the world, affecting an estimated five percent of the population. It can cause your ears to look too large and project outward from your head. This is especially noticeable when you're wearing a mask, causing your facial features to look disproportionate.
No one will know you had the procedure because the incision will be hidden behind your ear. The procedure itself is completely safe when performed by a qualified facial plastic surgeon with ample experience, like Dr. Wiesman.
Earlobe Repair
Countless people have regretted getting gauges (ear stretching plugs) or wearing large and heavy earrings over the course of their life because it can cause their earlobes to sag or become torn. Earlobe repair is a simple procedure that can be completed under local anesthesia, so you don't feel an ounce of pain. Dr. Wiesman will repair the enlarged holes and after about a week, the stitches will be removed and your ears can even be re-pierced after only six weeks.
Earlobe Fillers
Earlobes are one of the first giveaways of age. Earlobe fillers help make thinning earlobes look more youthful. This non-invasive procedure restores your earlobes' shape and increases their volume. It will look completely natural and make a drooping earlobe appear firmer and plumper. And best of all, the strategic placement of the filler will help prevent future stretching and drooping of the earlobe.
Earlobe Reduction
In addition to thinning, earlobes also tend to grow downward with age. An earlobe reduction can transform elongated lobes to a more proportionate and pleasing shape. This procedure can be completed in less than an hour under local anesthesia and requires very little downtime.
With focus turning away from the full face to only the visible areas, many people are deciding that now is the time to schedule a FREE cosmetic consultation with Dr. Wiesman to address their ear issues and boost their confidence and quality of life.
About Gary G. Wiesman, MD
Dr. Gary Wiesman is a board-certified cosmetic and reconstructive surgeon who has been providing quality patient care for over 25 years. Initially being trained as an otolaryngologist who specializes in ear, nose, and throat surgeries, he built on his foundation of knowledge by furthering his training to become a facial plastic surgeon as well. He offers a variety of ear-related cosmetic procedures to improve his patients' confidence with the best aesthetic outcome. For questions or to schedule a FREE cosmetic consultation, visit Wiesman Nasal & Sinus' website or call 312-796-5550.