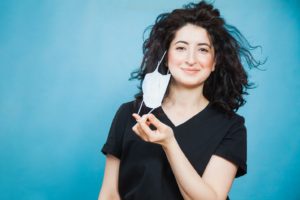 With COVID-19 numbers on the decline, many localities, including ours, are saying goodbye to mask mandates. For most people without serious health conditions, it is now considered relatively safe to be in public without a face covering. Are you ready for a mask-free future? Investing in BOTOX® or cosmetic facial fillers can help you look and feel your best when you are attending parties, posing for photos, or going on a much-needed vacation.
How Does BOTOX® Work?
Only BOTOX® Cosmetic is FDA-approved to significantly reduce moderate-to-severe
frown lines, crow's feet, and forehead lines. BOTOX® addresses these issues by blocking signals from your nerves to your muscles, which means the muscles cannot contract. The treatment won't hinder your ability to express your emotions on your face, but it will noticeably diminish the appearance of wrinkles and help you look years younger.
How Do Cosmetic Facial Fillers Work?
Facial fillers, sometimes called soft tissue fillers or dermal fillers, also help to address wrinkles. However, they work a little differently than BOTOX®. Instead of limiting muscle movement, they add volume beneath the skin in order to fill out lines and wrinkles. This is the preferred treatment to soften the deep lines around your mouth (nasolabial folds). There are quite a few different types of facial fillers on the market. Dr. Gary Wiesman, your trusted facial plastic surgeon, can help you compare your options and choose the one that will work best for you.
What to Expect with Treatment
Whether you receive BOTOX® or fillers before your mask-free fun, there are a few things to keep in mind about your cosmetic treatment:
Side effects are usually mild, and you should be able to resume all of your normal activities immediately after your appointment.
It's important to choose a qualified professional to administer your injections. Properly done, the results can be stunning. Improperly done, you may be unsatisfied with the outcome.
Unlike most cosmetic surgeries, such as rhinoplasty, both BOTOX® and cosmetic fillers provide temporary aesthetic enhancement. Depending on which treatment you receive, you may have to return for retreatment.
You may be advised not to touch your face during the first several hours after your injections. However, wearing a clean, well-fitted mask is completely okay if you go anywhere that requires it.
Are you ready to say goodbye to masks and put your best face forward this summer? BOTOX® or cosmetic facial fillers may help you say goodbye to facial coverings with confidence.
Meet Dr. Gary Wiesman
Dr. Gary Wiesman is a board-certified facial plastic surgeon with decades of experience. He offers BOTOX® as well as a number of different cosmetic fillers. If you are interested in learning about your options for reducing wrinkles, he would be pleased to talk with you. Contact our practice at 708-716-8098 to ask questions or request an appointment online.