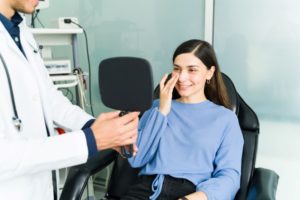 Would you like to enhance your appearance? A skilled facial plastic surgeon may be the right person to help you refine your look and feel more confident as you face the world. But which type of surgery might be best for you? Although there are many procedures that can help to address aesthetic imperfections, some are more popular than others. Here is an overview of some of the most common types of facial plastic surgery:
Rhinoplasty
Rhinoplasty, casually known as a "nose job," is meant to reshape the nose. For example, it can make your nose narrower by reshaping the nostrils. It could also get rid of a dorsal hump or a hooked appearance. Simply let your surgeon know what you want your nose to look like (pictures are helpful), and they will tell you if it can realistically be achieved. Because your nose is right in the center of your face, reshaping it could have a great effect on your overall appearance.
Blepharoplasty
Blepharoplasty, also called eyelid surgery, is designed for individuals who have sagging, loose, or puffy skin around their eyes. This procedure can tighten up those areas and give you a more youthful, more alert appearance. For individuals with severe sagging in their eyelids, it could even improve their vision.
Ear Surgery
Do you sometimes hide your ears behind your hair or under a hat? If you feel self-conscious about their appearance, ear surgery may be able to help. For example, otoplasty can help to improve the look of large, protruding, or folded/cupped ears. If your earlobes have been damaged due to the use of heavy earrings or gauges, you may be a candidate for earlobe repair procedures.
Injectables
Many people want to improve the way they look, but they are not ready to commit to an invasive surgical procedure. For such individuals, injectables are often an option. BOTOX® is ideal for people who have movement-based wrinkles. It can minimize the appearance of crow's feet, lines around the mouth, forehead lines, and more. Fillers are also amazing. Their job is to plump up thin, sagging areas of skin to produce a more youthful look.
Comparing Your Options
If you are not sure which type of facial plastic surgery is right for you, book a consultation with a qualified doctor. Let them know what your goals are, and they will propose a treatment plan. They will also make sure you understand the entire surgical process, including its financial side. Once you are well-informed about the road ahead, you can make a confident decision about how to achieve your ideal look.
Meet the Practice
Dr. Gary Wiesman is a facial plastic surgeon in the Chicago area. He offers a number of procedures that can help patients to feel more confident and enjoy an improved quality of life. If you would like to talk with him and our team about your aesthetic goals, we are ready to assist you. Contact our office at 312-796-5550.