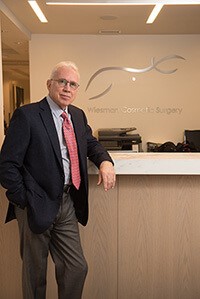 If you have recently visited The Art of Rhinoplasty's office and website, you have probably noticed things are a bit different. We have freshened things up with a new name, new website and some rebranding. While the name is different, Wiesman Nasal & Sinus, and our website is more user friendly for mobile visitors, we still maintain our core values and mission to deliver exceptional customer service and care.

New Name, Same Exceptional Care
Dr. Gary Wiesman has been a well-recognized leader for outstanding surgical technique and artistry for more than 25 years.  Double board certified by the American Board of Facial Plastic and Reconstructive Surgery as well as the American Academy of Otolaryngology, Head & Neck Surgery, Dr. Wiesman was named a Top Beauty Doctor by "New Beauty" in 2016.
Dr. Wiesman focuses on procedures for the face and neck.  He specializes in rhinoplasty, revision rhinoplasty, ethnic rhinoplasty, sinuplasty, eyelid surgery, chin implants, and BOTOX® and cosmetic fillers.
At Wiesman Nasal & Sinus, you will benefit from an array of cosmetic and plastic surgery services, such as in-office balloon sinus dilation for chronic nasal congestion, deviated septum surgery, parotid surgery, as well as surgical and non-surgical treatments for sleep apnea.
Due to his diverse training, he is not just limited to treatments for the nose, but the ears as well. His professional expertise allows him to perform otoplasty, ear fluid removal, eardrum surgery, and even surgery for hearing loss.
You will benefit from additional areas of specialty, including audiology and allergy treatment – all under one roof.
For your body, Dr. Gary Wiesman is the only physician in the Chicago area to offer Vanquish™.  This procedure safely and painlessly removes fat from the waist, tummy, thighs, buttocks and more – without any surgery or downtime.
Convenient and Comprehensive Care
Dr. Wiesman proudly offers a variety of cosmetic and corrective surgeries to enhance your quality of life. He strives to make the care you need convenient with office hours that work around your busy schedule. In addition to weekday appointments, his office is open on Saturday, so you will not need to take time off work. His convenient location in Chicago makes it easier than ever to schedule the procedures you need.
While we may have a new name and a new look, our office still offers the exceptional care and services our community has come to know and trust.
If you need ear, nose, or throat services for aesthetic or health purposes, Dr. Wiesman offers the unmatched skills and services you need. In addition, we have a non-invasive fat-melting treatment that requires no needles or surgery.
Contact our office today to schedule a complimentary consultation* with the highly skilled and experienced Dr. Gary Wiesman. He will give you a new outlook on life with the exceptional results you deserve.
* Complimentary consultations are for cosmetic procedures only.