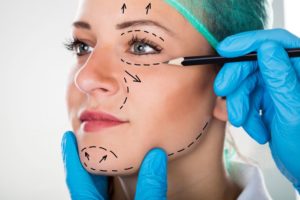 Some people would love to enhance their appearance but are reluctant to talk to a facial plastic surgeon. After all, there are a number of TV shows and social media platforms that highlight everything that could go wrong when someone "goes under the knife" with the goal of achieving certain aesthetic goals. But is there really anything to worry about? Just how safe is facial plastic surgery? This blog post provides useful information.
The Risks Are Minor
Facial plastic surgery is generally considered to be safe. Around a decade ago, the American Society for Aesthetic Plastic Surgery conducted a survey on more than 400,000 procedures. They found that serious complications occurred in less than 1% of cases. That number is comparable with the risks associated with any type of surgery.
Factors that Affect Risk Level
There are a few major variables that can have a bearing on the level of risk associated with a facial plastic surgery procedure:
Your Surgeon
In an attempt to save money, some people have sought out black market aesthetic procedures. For example, they might buy filler injections from a questionable source. You should never do that. Individuals who illegally offer such services may not be using medical-grade materials, and they may not have the appropriate training to do what they claim.
On the other hand, if you visit a surgeon who has established a reputation for providing high-quality care, you can be confident that they will do all they can to protect your health and safety.
Your Health
There are some health-related factors that could increase your risk level for any type of surgery, including facial plastic surgery. For example, you have an elevated risk of developing a blood clot if you are a smoker or are significantly overweight. A personal history of cancer and certain disorders of the nervous system could also impact your risk level.
Be completely honest and candid when you are answering your surgical team's questions about your medical history. The better-informed they are, the more prepared they will be to address any potential issues associated with your procedure.
Your Compliance with Instructions
After a successful surgery, you are not completely in the clear. You will have to comply with postop instructions so your body can heal properly. You might be required to rest, abstain from alcohol, avoid using certain skincare products, and take other measures to minimize your risk of complications.
The Bottom Line
Is facial plastic surgery safe? Many patients and plastic surgeons would say that the risks are very minor compared to the potential rewards. If you have questions about the safety of any procedure you are considering, talk to a qualified medical professional. Then, you will be able to make a well-informed decision about how you want to move forward.
Meet the Practice
Dr. Gary Wiesman is an experienced facial plastic surgeon who is proud to serve the greater Chicago area. Patient safety is one of his top priorities. If you would like to learn about how he and our team may be able to serve you, get in touch with us at 312-796-5550.