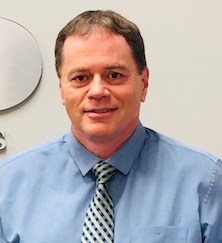 Wiesman Nasal & Sinus is committed to providing our patients with superior care to improve their quality of life. In addition to the latest technologies, treatments, and procedures, we have a qualified and caring staff that provides our services. We are happy to have Scott Lightbody, Audiometrist, as part of our team. Supported by extensive training and qualifications, he can help you hear clearly as a Licensed Hearing Instrument Specialist. Now, you can treat your hearing loss in Chicago at Wiesman Nasal & Sinus.

Meet Scott Lightbody, Audiometrist
For the past 12 years, Scott Lightbody has served as a Licensed Hearing Instrument Specialist. He completed a rigorous curriculum to understand the anatomy of the ear and how technology can be used to restore the ability to hear. In addition, he is a member of the International Hearing Society.
As a hearing aid specialist, Scott evaluates patient needs based on comprehensive test results and a professional assessment. He will then create a customized treatment plan and select the appropriate hearing aid based on fit, personal preference, and sound amplification. To ensure a comfortable and accurate fit, measurements and impressions of the ears may be taken in our office.
Scott will then guide patients through the process of inserting and adjusting their hearing aids while providing the follow-up care necessary to maintain optimal results.
Supported by a mission to help those who have hearing difficulties improve their quality of life, Scott provides an array of services, including:
Audiology Testing: Testing to identify the cause of hearing loss, whether due to age, trauma, birth defects, blockages, or other issues.
Hearing Aids: Improve the ability to distinguish speech and hear sounds with a custom-fit device.
Patient Counseling: Educate patients about their hearing difficulties and discuss treatment options.
Follow-up Care: Continuous support even after being fitted for a hearing device.
Improve Your Quality of Life Today!
You do not have to live with the challenges of hearing loss. With Scott Lightbody on our team, you can start hearing what you have been missing with the help of a Licensed Hearing Instrument Specialist. Contact our office today to experience a higher quality of life!
About Dr. Gary G. Wiesman
Dr. Gary G. Wiesman is a board-certified facial plastic surgeon in the Chicago area. He specializes in rhinoplasty and revision-rhinoplasty procedures. Dr. Wiesman embraces the latest advancements to provide his patients with superior results to achieve optimal well-being. If you are ready to make an investment in your quality of life, contact our office today to schedule a consultation.