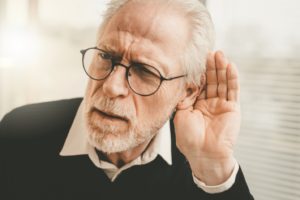 November is Alzheimer's Awareness Month. Chances are, you personally know one of the more than five million Americans who are struggling with this devastating disease. Could you be at risk as well? If you have experienced a degree of hearing loss, it's quite possible that the answer is yes. Let's take a look at the link between hearing problems and Alzheimer's and discuss why monitoring your hearing is so important.
Hearing Loss and Dementia
A 2011 study published in Archives of Neurology found that adults with mild hearing loss are twice as likely to experience dementia as those with healthy hearing. Those with moderate hearing loss are three times as likely, and those with severe hearing loss are a staggering five times as likely.
What is the reason behind the connection? Researchers aren't completely sure, but there are a few different theories. One possibility is that because hearing loss often contributes to loneliness and social isolation, it affects the way the brain works and contributes to cognitive decline. It could also be related to the fact that along with hearing loss, the part of the brain that is responsible for processing sounds begins to shrink, which in turn may affect the brain's overall function.
What You Can Do
A 2017 report from The Lancet International Commission on Dementia Prevention pointed to hearing loss as the biggest modifiable risk factor for dementia. In theory, if all hearing loss were eliminated, 9% of dementia cases could be eliminated as well.
Here are some steps that you can take to protect your precious hearing:
Get your hearing checked once every few years, especially if you are over 50 years old. A thorough screening usually doesn't take more than 30 minutes, and the process is completely painless.
Don't be ashamed to wear hearing aids if you need them. Hearing aids may help to prevent dementia or, in patients who already have dementia, make their condition easier to manage.
Look into other ways of bolstering your hearing. Certain types of ear procedures performed by Dr. Gary Wiesman may help. Or, in cases of severe hearing loss, you might visit a specialist to learn about implant-based hearing aids.
Wear ear plugs when you are exposed to loud noises, such as at concerts, sporting events, and even when you are mowing the lawn.
Keeping your ears healthy could help to keep your brain healthy as well! If it has been a while since your last hearing test, why not schedule one soon? Your results may give you the information you need to reduce your risk of dementia.
Scott Lightbody, Audiometrist, is on staff at Wiesman Nasal and Sinus. As a Licensed Hearing Instrument Specialist, Scott will fully evaluate your hearing ability. If needed, our office offers the latest hearing technology so you can experience superior sound quality to hear comfortably in any environment.
About the Practice
Dr. Gary Wiesman is a facial plastic surgeon and otolaryngologist who specializes in ear, nose, and throat surgeries. He operates a state-of-the-art facility and is always ready to help patients meet their needs, whether they are looking to improve their hearing or enhance their appearance. If you would like to learn more about Dr. Wiesman or schedule a consultation with him, we invite you to contact our office at 708-716-8098.