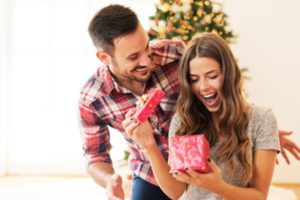 Gift-giving is in season 365 days a year, but it is particularly prominent on people's minds during November and December. If you are looking for ways to treat your loved ones — or yourself — the possibilities are endless. Things like new technology, clothes, and jewelry, are always appreciated. But have you thought about gifting a facial cosmetic procedure with Dr. Gary Wiesman, your trusted facial plastic surgeon? Helping someone love their appearance is a wonderful way to show that you care.
Why Give a Cosmetic Service as a Gift?
There are a few reasons why a cosmetic service makes a great gift:
We live in a society that places a lot of emphasis on appearance. Of course, everyone should do their best to love themselves and be confident — but feeling self-conscious about appearance can be an obstacle in that endeavor. Helping someone love what they see in the mirror may give them a much-needed confidence boost.
Your options are limitless. You do not have to spend thousands of dollars to give cosmetic services as a gift. There are some noninvasive procedures that can produce great results without wiping out your budget.
Some people hesitate to treat themselves. Do you know someone who is always taking care of others but who rarely splurges on themselves? Giving them cosmetic services as a gift is a way to say, "I love you, and you deserve to look and feel your best."
A new look is a great way to start the new year. Going into January with increased confidence can set you or your loved one up for a year of success.
Which Services Should You Give?
You may need to do a little recon with your loved one before you know which cosmetic services would appeal to them the most, but here are a few popular options:
If you aren't sure which services your giftee may appreciate, you can simply tell them that you would like to treat them to a cosmetic procedure and let them take the lead in deciding exactly how they would like to enhance their appearance. Dr. Wiesman offers complimentary cosmetic consultations for new patients. Gift-giving isn't always easy, but it's hard to go wrong with a cosmetic service!
Meet the Doctor
Dr. Gary Wiesman is a board-certified facial plastic surgeon in Chicago. He offers a broad range of services, including BOTOX®, cosmetic fillers, rhinoplasty, and more. He finds great satisfaction in helping patients love their appearance. If you would like to talk to him about how he can help you (or a loved one) achieve the ideal look, contact our office at 708-716-8098 to ask questions or schedule a FREE cosmetic consultation.