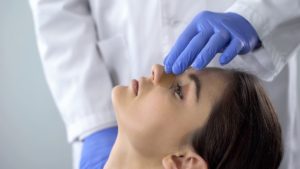 You have seen pictures of botched plastic surgery procedures that can leave you wondering if it is possible to achieve natural-looking results. Often, it is very easy to tell which celebrities have made cosmetic changes to their appearance because of low-quality treatments. Although it may seem like there is no way to get the results you want, this is not true. If you are interested in facial plastic surgery in Chicago, you can achieve natural-looking results by choosing qualifications and experience. You can rest assured you are in good hands with Dr. Gary G. Wiesman.
Can My Results Look Natural?
Cosmetic surgery can be the ideal solution to enhance your appearance while also maintaining your natural beauty. Unfortunately, many people do not seek treatment because they worry about unnatural-looking results. You can find a long list of images of "plastic surgery fails," and the "Botched" reality TV show can be downright terrifying, but you should not let that scare you from investing in your appearance.
You need a facial plastic surgeon who is supported by extensive training and qualifications, like Dr. Wiesman, to get the results you want. When your treatment is performed correctly by a skilled surgeon, you can be left with a rejuvenated, beautiful appearance.
Choose Qualifications You Can Trust
Dr. Wiesman specializes in ear, nose, and throat surgeries as an otolaryngologist; furthermore, he continued his education at Northwestern University to become a board-certified facial plastic surgeon as well. He combines the facial structures with aesthetics to achieve a natural look. As a board-certified physician, he has been in practice for more than 25 years. He has the experience, qualifications, and reputation you need to make a wise decision for your facial cosmetic surgery needs.
Dr. Wiesman is supported by various professional accreditations, including the American Academy of Facial Plastic and Reconstructive Surgery. He also maintains multiple fellowships and memberships with several organizations, including the American College of Surgeons, the American College of Facial Plastic Reconstructive Surgery, and the American Academy of Cosmetic Surgery.
To ensure you achieve the results you want, Dr. Wiesman uses proven methods and techniques. Supported by years of successfully performing a variety of cosmetic procedures, you can rest assured you are in good hands with Dr. Wiesman. Still unsure? You can review his photo gallery of before- and-after photos of real patients to feel confident in your decision to choose Dr. Wiesman.
Invest in Your Appearance
You can improve your appearance with the skilled hands of a trusted facial plastic surgeon in Chicago. Receive the high-quality specialized care you deserve with Dr. Wiesman.
About Dr. Gary G. Wiesman
Dr. Gary G. Wiesman is a trusted facial plastic surgeon in Chicago. He specializes in rhinoplasty by using his skills as an artist and a surgeon to shape the nose to fit the face, rather than make it appear artificial. If you are interested in facial plastic surgery, contact our office today to schedule your FREE cosmetic consultation.