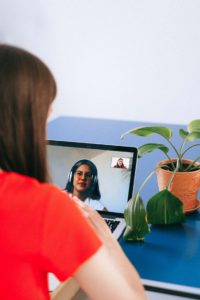 As we practice social distancing to combat the spread of COVID, many people have turned to various forms of telecommunication, like Zoom. Although it allows you to stay safe while conducting business, it has also caused your aesthetic concern to feel like a focal point. No matter if you're embarrassed by wrinkles, a large nose, or protruding ears, video conferencing can make you feel insecure about your imperfections that you see on the screen. Thankfully, now is the perfect time to invest in your self-esteem because you're already spending more time at home. Dr. Gary Wiesman, board-certified facial plastic surgeon, can help you look better on Zoom. He can correct your flaws, and you won't have to miss work while you recover. Depending on your goals, there's a treatment that's right for you.
Also known as a "nose job," rhinoplasty is a surgical procedure to reshape the nose to improve your facial harmony. It can reduce or increase the size of your nose, or change the shape of the tip or the bridge. Whether from genetics, injury, or a birth defect, the procedure can add balance with your other facial features. In some cases, it can also be used to correct structural issues that can impede breathing, such as from a deviated septum.
If lines and wrinkles are making you look older than your true age, BOTOX® is a simple solution to turn back time. BOTOX® is the first and only FDA-approved treatment to smooth moderate to severe forehead lines, crow's feet lines, and frown lines. You can attain a youthful appearance without needing invasive facial plastic surgery.
This convenient and safe treatment fills and corrects smile lines, nasolabial folds, and wrinkles around the nose and mouth. Cosmetic fillers also stimulate new collagen production while you enjoy a natural look that lasts. Filling in lost volume will restore your youthful appearance. And results are immediate so you can feel confident about your video call in the morning. 
Masks and headsets can make large ears appear even bigger, but otoplasty can correct your concerns. Ear surgery is performed to improve the size, shape and position of the ear. Dr. Wiesman can also repair torn earlobes as well as improve the appearance of earlobes with large creases and wrinkles.
A weak chin can cause other facial features to look larger, like your nose or neck. A chin implant can add balance to your appearance. Depending on your needs, it can make your chin look stronger, wider, or longer to change your profile. It can also be combined with other procedures to help you enjoy optimal results.
Which Procedure Is Right for Me?
Dr. Wiesman offers FREE cosmetic consultations to discuss your concerns and your aesthetic goals. He will create a personalized plan using the latest treatments and techniques to help you look your best. Now is the ideal time to invest in your self-esteem before we return to the hustle of everyday life.
About Dr. Gary G. Wiesman
Dr. Wiesman is a trusted facial plastic surgeon who specializes in ear, nose, and throat surgeries. He combines surgical technique with artistry to deliver superior results. He can help patients with their facial plastic surgery needs while keeping their safety a top priority amid the pandemic. If you're ready to enhance your appearance and self-esteem, contact our office today to schedule your FREE cosmetic consultation.