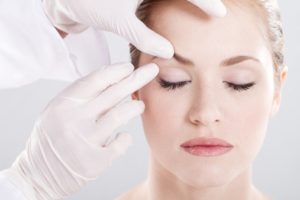 If you are not happy with your appearance, Dr. Gary Wiesman, your facial plastic surgeon in Chicago can help. Although cosmetic surgery is often believed to be unattainable for the average person, now it is a viable option for people from all walks of life. In 2017, more than 17 million Americans made the choice to use surgical and minimally invasive procedures to transform their appearance and increase their confidence. Among the top procedures that you may benefit from include chin implants, eyelid surgery, BOTOX®, facial fillers, and rhinoplasty.

1. Chin Implants
If you want to strengthen a weak or recessed chin and enhance your jawline, a chin implant can help. It is made from a soft, flexible material that is inserted underneath the skin. It is secured in place, allowing it to provide lasting results.  The procedure is performed in less than an hour. You can make your weak chin stronger to feel more confident.
2. Eyelid Surgery
In 2017, more than 209,000 eyelid surgeries were conducted throughout the United States. The procedure is highly effective for reducing sagging of the eyelids due to aging, sun damage, stretching, and other factors.
The skin on the upper and lower lids can be reduced surgically with a small incision placed along the natural crease of the eyelid. As a result, it will be virtually invisible. You will enjoy long-term results to restore a youthful appearance.
3. BOTOX® & Facial Fillers
BOTOX® and facial fillers are among the top minimally invasive procedures to turn back the hands of time. As you age, your skin will begin to lose its elasticity, causing sagging, wrinkles, fine lines and creases. BOTOX® and facial fillers can be used to erase the signs of aging and restore a more youthful appearance without the need for surgery.
BOTOX® is used to treat frown lines, wrinkles around the eyes (crow's feet) and forehead lines. In addition, it can be used to help treat migraines, facial muscle spasms, and excessive sweating.
Facial fillers can be used to add more volume to areas around the nose or mouth – smoothing and decreasing marionette lines, smile lines and nasal labial folds.
4. Rhinoplasty
More than 218,000 nose reshaping procedures were performed last year. By making minor changes, you can achieve drastic results to improve your appearance and your confidence. The procedure is quite versatile, allowing it to be used to correct several factors that may cause you to feel insecure, such as the width, tip, angle, nostrils, and profile of your nose.
Invest in Yourself Today
If you are not satisfied with your appearance, cosmetic procedures or facial plastic surgery in Chicago can help. With a customized treatment plan, you will restore your confidence with natural-looking results.
About Dr. Gary G. Wiesman
Dr. Gary G. Wiesman is a face expert. For more than 25 years, he has provided elective and corrective facial cosmetic procedures to help his patients look and feel their best. Dr. Wiesman can safely and expertly perform the procedure you need to improve your appearance. Contact our office today to schedule your consultation.