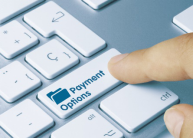 At Wiesman Nasal & Sinus, we provide an array of cosmetic and corrective procedures to improve your quality of life as well as your self-confidence. Under the care of Dr. Gary Wiesman, your trusted facial plastic surgeon in Chicago, you will benefit from outstanding surgical techniques that are combined with artistry. We understand that the cost of a procedure can often be a concern. We do not want to see you place your treatment on hold due to financial burden. We offer a variety of financing options to accommodate your budget and lifestyle.

MDSave
To help pay for your procedure, Dr. Wiesman is a participating provider with MDSave, which is perfect for patients who will be paying cash for their treatments. MDSave partners with quality providers to offer affordable rates on many types of procedures, which are purchased online prior to receiving the care you need. With the highest level of transparency, there will not be any unexpected surprises when paying for your procedure.
CareCredit
We also offer CareCredit, a third-party financing option to help you pay for your procedure. For more than 30 years, CareCredit has provided financing options for treatments and procedures that are not covered by insurance. In addition, it can also be used for those who do not have insurance. Based on credit approval, you will be given a line of credit to use toward your treatment. You will repay the amount in convenient monthly installments that accommodate your budget.
CareCredit can also be used to finance BOTOX® and Cosmetic Fillers – so you can fit beauty into your monthly budget.
Get the Treatment You Need Today!
If the cost of a procedure has put your care on hold, you no longer need to delay treatment. With our affordable financing options, you can get the services you need, including:
Rhinoplasty
Nasal Septum Surgery
Otoplasty
Balloon Sinuplasty
Tonsillectomy
Adenoidectomy
Now, you have the financial means necessary for your cosmetic or corrective procedure. Under the care of Dr. Wiesman, you will achieve high-quality results through his expert training, qualifications and experience.
About Dr. Gary Wiesman
Dr. Gary Wiesman is board-certified in both otolaryngology and facial plastic surgery. For more than 25 years, he has provided comprehensive cosmetic and corrective surgery services from his state-of-the-art facility. Holding extensive skills and experience in ear, nose and throat surgeries, he combines proper structure with aesthetics for superior results. In his professional and tranquil environment, Dr. Wiesman will provide you with the comfort and care you deserve to improve your quality of life. If you need a cosmetic or corrective procedure, contact Wiesman Nasal & Sinus today to schedule your consultation.