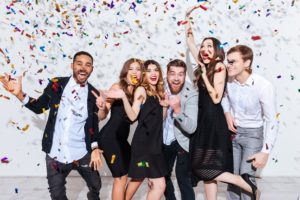 This past year has been a challenging year for all of us! But you can invest in a brighter future with the help of your facial plastic surgeon, Dr. Gary Wiesman. The New Year is right around the corner, and there isn't a better time to transform your confidence with a cosmetic procedure. If you're ready to put the past behind you, it's time to see how Wiesman Nasal & Sinus can help you start 2021 with your best face forward.
Give Your Confidence a Boost
If you're unhappy with your appearance or you have certain concerns that influence your self-esteem, Dr. Wiesman can help. He offers a variety of procedures to help you achieve your aesthetic goals. Depending on your needs, you can benefit from one or more treatments, including:
Your ears allow you to hear the world around you. They also create symmetry for your face. If you're less than pleased with their appearance, you can start the year off right with:
Otoplasty: If you have a birth defect or need corrective surgery, otoplasty can fix protruding, overly large, or folded ears. You will no longer feel self-conscious about your ears.
Earlobe Rejuvenation and Repair: Do you want to wear your favorite earrings again in the New Year? Dr. Wiesman can repair earlobes that have been stretched, elongated or torn because of heavy earrings. He can also add volume and restore your earlobes to their previous shape.
Dr. Wiesman has advanced training in nose procedures. Whether for medical or cosmetic purposes, he can help you attain the results you want with:
Rhinoplasty: Sometimes referred to as a "nose job," enhances facial harmony by correcting the size and shape of the nose. It can also correct impaired breathing caused by structural defects in the nose.
ClariFix® Cryotherapy: Are you tired of constantly reaching for a tissue for your runny nose?  This FDA-approved treatment relieves chronic runny nose and works for both allergic and non-allergic patients.
Latera® Nasal Implant: This implant can correct a narrowed airway to promote better breathing. It's like having a permanent Breathe Right® nasal strip on your nose without the annoying skin irritation.
Your face is often the first place to show the passing of time. Dr. Wiesman can turn back the clock and restore a youthful appearance using a personalized treatment plan, such as:
BOTOX®: Remove wrinkles and fine lines to give your face a smooth, youthful appearance.
Cosmetic Fillers: Restore fullness to your face to give you a young, refreshed look by adding volume to cheeks, marionette lines, and smile lines with our long-lasting fillers.
Chin Implant: If you have a weak chin, an implant provides enhancement of both chin and jawline to improve your facial features.
If you frequently have tonsillitis or enlarged tonsils, you can improve your quality of life for the year ahead with a tonsillectomy. Dr. Wiesman uses the latest technique to remove the tissue. Overall, it provides a less-invasive procedure with decreased post-operative pain and a quicker recovery.
Payment Plan Option
The cost of a procedure shouldn't hold you back from achieving the look of your dreams. We accept CareCredit®. This health, wellness and beauty credit card can help you take the next steps toward accomplishing all of your aesthetic goals. It can also be used for medical procedures and hearing aids.
Choose a Fresh Start
You can begin the New Year with a positive attitude by investing in yourself. Our office has revamped our safety protocols to help keep patients safe amid the COVID pandemic, so you have one less thing to worry about while investing in yourself.
From everyone at Wiesman Nasal & Sinus, we wish you happy holidays, and we look forward to helping you feel your best in 2021.
About Dr. Gray G. Wiesman
Dr. Gary Wiesman is a board-certified otolaryngologist and facial plastic surgeon. He combines his experience with the latest surgical techniques and artistry to provide flawless results. Dr. Wiesman will listen to your concerns and answer your questions. He will then recommend a solution to help you look and feel great in the New Year. Contact our office today to schedule your consultation.