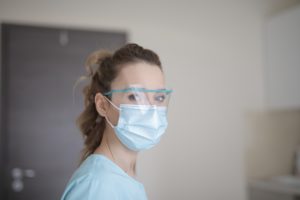 We are living in uncertain times as we face the COVID-19 pandemic. To help stop the spread of the virus, the Centers for Disease Control and Prevention has recommended the temporary suspension of nonessential services. This is a rather broad spectrum, which can make it difficult to determine which businesses and practices are still open. At Wiesman Nasal & Sinus, we understand the confusion. We're here for you during this challenging time. Our office is still open for business to care for our patients who have ear, nose and throat issues as well as for patients wanting BOTOX® and cosmetic facial fillers. Don't worry, we have put in place extensive safety measures and added precautions to ensure your health and safety while delivering the best care possible.
We're Here for You
Your board-certified facial plastic surgeon, Dr. Gary Wiesman, has created a very specific plan to help you achieve your aesthetic goals. Unfortunately, your current regimen won't wait for COVID-19 concerns to end. You don't need to lose your progress or jeopardize your safety. While many offices are closed, we're still open, so you can stay on track with your treatment. Rest assured; we're using the proper sanitizing techniques recommended by the CDC to ensure your safety.
In addition, as a board-certified otolaryngologist, Dr. Wiesman is here for you if you have any issues with your ears, nose or throat that requires immediate attention.
Delivering Safe & Sanitary Care
Throughout the COVID-19 pandemic, the CDC has been proactively providing medical providers with accurate and helpful information. This allows us to continue offering services while keeping the health and safety of our patients and staff a top priority.
While telemedicine is currently a preferred form of communication between patients and physicians, we know that isn't always possible. To minimize the risk of spreading illness, we are scheduling appointments at least 30 minutes apart. This also gives us time to properly sanitize the office between patients.
Before you arrive for your appointment, our staff will have recently cleaned frequently touched surfaces using EPA-registered disinfectants, like the counters, beds, and seating area. When you arrive, we may ask you about any symptoms you might have, like a cough or fever. If you are symptomatic, we may provide you with a facemask. While you're in our office, you'll notice tissues, sanitizers, soaps, and other supplies to help you stay well.
If you're at risk of serious complications from COVID-19, please let our office staff know before your appointment, so we can take extra steps to ensure your safety in addition to the new protocols we've already implemented. If you're concerned for your well-being, you can even wait outside or in your vehicle until we're ready for you.
Enjoy Safe Care Today
Your safety is our top priority. We are taking extreme measures to minimize the risk of COVID-19 exposure while keeping you on track with your treatment plan and caring for your health care needs. If you have any questions or concerns about our sanitation protocols, don't hesitate to contact our office.
Meet Dr. Gary G. Wiesman
Dr. Gary G. Wiesman is a trusted facial plastic surgeon and otolaryngologist in Chicago. He combines art and science to deliver outstanding surgical technique to improve aesthetics, function, and structure of the ears, nose, and throat. With over 25 years of experience, he provides the superior care you deserve, even during this challenging time. Contact our office today to schedule an appointment.