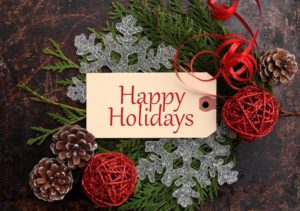 As 2018 draws to a close, we want to take a minute to thank you for placing your trust in Dr. Gary Wiesman and his staff this past year, and to wish you all a wonderful holiday season.
As we get ready to enter a new year, we are excited to continue to provide you with the services you need to look and feel your best. We strive to offer an array of cosmetic, corrective and facial plastic surgery treatments to help you achieve optimal well-being, including:
Nose Procedures
Supported by the qualifications and experience of Dr. Wiesman, we are pleased to provide special services to enhance the appearance and function of your nose, such as:
Rhinoplasty
Revision Rhinoplasty
In-office balloon sinus dilation
Deviated septum surgery
Turbinectomy for chronic nasal congestion
Nasal polyp removal
Adenoid surgery
Sinus surgery
Ear Procedures
The look and function of your ears can significantly affect your self-esteem and your quality of life. We want to ensure you feel confident while also improving your quality of life through advanced ear procedures, like:
Earlobe rejuvenation (also known as an earlobe lift)
Earlobe repair
Otoplasty
Eardrum surgery
Ear fluid removal
Hearing loss surgery
Ear infection treatment
Facial Procedures
Your face is the first thing people see when they meet you. Be the person you were meant to be, and love your appearance with a variety of facial procedures, such as:
Eyelid surgery
Chin implants
Facial fillers and BOTOX®
Throat and Neck Procedures
Dr. Wiesman is specially trained to perform throat and neck procedures for corrective purposes, including:
Tonsil removal
Sleep apnea treatment
Parotid surgery
Audiology
We know it is important to hear the world around you; however, if you suffer from auditory issues, that can be a challenge. Our team specializes in improving your ability to hear with:
Audiology testing
Hearing aids
Enjoy the Holidays!
In addition to Dr. Wiesman's experience and qualifications, we use the latest technologies and methods to provide superior services for our patients. As we leave behind another year in just a few short weeks, Dr. Wiesman and his team thank you for choosing us for your cosmetic and clinical needs. We wish you a happy and healthy New Year, and we look forward to continuing to provide you with the care you deserve.
About Dr. Gary G. Wiesman
Dr. Gary G. Wiesman is Chicago's trusted facial plastic surgeon. Specializing in ear, nose, and throat procedures, he uses outstanding surgical technique and artistry to improve his patient's quality of life. As a double board-certified physician for over 25 years, you can rest assured you are in good hands with Dr. Wiesman. Contact our office today to schedule a consultation.