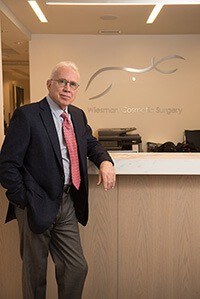 Are you looking for a facial plastic surgeon in Chicago that can provide you with top-tier, custom-tailored care? Dr. Gary Wiesman and our team at Wiesman Nasal & Sinus are dedicated to helping patients meet their esthetic goals and correct functional nasal problems, such as a deviated septum or difficulty breathing. Read on to learn what makes Dr. Wiesman's care stand out from other providers in the area.
What Makes Dr. Gary Wiesman Unique
Impeccable Certifications: Board Certified by both the American Board of Facial Plastic Surgery and the American Board of Otolaryngology
Honored as a Top Beauty Doctor by New Beauty Magazine
Proven ability to achieve excellent results – visit our photo gallery
All procedures are performed in a private, safe, and fully accredited facility
All procedures are performed by Dr. Gary Wiesman – no trainees
FREE consultations for cosmetic procedures
Keep Reading for More Reasons to schedule a FREE Consultation with Dr. Gary Wiesman
Conveniently Located in the Heart of Chicago
You don't need to drive out of your way to receive a treatment that you need. Wiesman Nasal & Sinus is right in the heart of Chicago, near iconic landmarks like Navy Pier, The Art Institute, The Shed Aquarium, and The Bean! That way, when you come in for your FREE consultation, you can make a day of it and visit the finest places and restaurants that Chicago has to offer.
We Make Treatments Affordable
Dr. Wiesman and our team want you to be able to afford the life-transforming treatments that you need, which is why we're happy to offer several financing options for our patients. Not only do we accept MasterCard, Visa, Discover, and American Express, but we also partner with a trusted third-party financer, called CareCredit. By going through CareCredit, our patients can make flexible monthly payments that fit any budget. We also regularly provide special offers!
Patient-Centered Care from an Expert in Facial Plastic Surgery
For more than 25 years, Dr. Wiesman has been providing patients in Chicago with phenomenal cosmetic and corrective results. He makes sure to spend time with each of his patients to listen and understand the goals that they have, and combines that with his ample knowledge of structural physiology and aesthetics.
Comprehensive, Trusted Care
Dr. Wiesman offers a wide range of cosmetic and corrective services having to do with the nose, ears, eyes, face, throat, and neck. He utilizes the latest technology and techniques in his field to achieve the best results possible. Whether you're suffering from breathing problems or want to improve the appearance of your nose, or simply want to reduce facial lines and wrinkles with BOTOX® and facial fillers, our team can help.
If you're looking for a local, trusted facial plastic surgeon to improve your life by boosting your confidence, Wiesman Nasal & Sinus is the perfect one-stop-shop to solve your cosmetic problems. We welcome you to schedule a consultation today!
About Dr. Gary Wiesman
Dr. Gary Wiesman is humbled and proud to have been a part of so many patients' journeys toward improving their day-to-day life. He values continuing education and keeps up-to-date with the latest advancements in his field. He's also a proud member of several professional organizations such as the American Academy of Facial Plastic and Reconstructive Surgeons and the American College of Surgeons. For questions, please call Wiesman Nasal & Sinus at 312-796-5550.