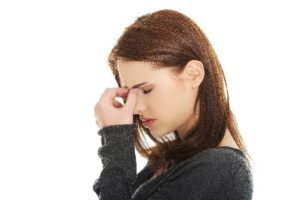 Is the constant inflammation of your sinuses ruining your day? Are you tired of living with the pressure, headaches, and pain of inflamed sinuses? You do not have to live with these painful symptoms. Now, you can stop your sinus problems for good with a minimally invasive treatment. With Balloon Sinuplasty in Chicago, you will benefit from effective sinus dilation using a groundbreaking procedure to breathe easier.

Stop Your Sinus Pressure
If you have been dealing with sinusitis, you live with daily challenges that can diminish your quality of life due to pressure and congestion. An invasive surgical procedure is no longer the only option to get relief – there is now an in-office solution that will stop your symptoms.
Balloon Sinuplasty is a revolutionary new procedure that uses a small, flexible, balloon catheter to gently open your nasal passages. This not only makes breathing easier, but it also allows for the proper drainage of mucus. By relieving the buildup, you will stop the complications of sinusitis. Often, patients report an improvement in their symptoms immediately.
If medications and other treatments have failed to give you the relief you need, you may be a candidate for this procedure.
Benefit from a Minimally Invasive Solution
With this procedure, there is no need for the removal of tissue, cutting, or sutures. In addition, it does not even require the use of general anesthesia. In fact, only a local anesthetic is needed.
This effective treatment has quickly become the preferred choice to relieve chronic sinus issues because it is a simple in-office procedure. It does not require a lengthy recovery, and most patients can return to their normal activities within 24 hours. In some cases, it is more affordable than alternative treatments, allowing you to benefit from reduced healthcare costs.
In as little as one or two days, Balloon Sinuplasty can relieve:
Sinus pressure and congestion
Sinus headaches
Facial pain, tenderness, and swelling
Difficulty breathing through the nose
Yellow or green mucus in the nose
Sore throat from nasal discharge
Bad breath
Fatigue
Teeth pain
Breathe Easier Today
If you are ready to stop living with the complications of inflamed sinuses, it is time to see if Balloon Sinuplasty is the right solution for you, so you can breathe easier and improve your quality of life.
About Dr. Gary G. Wiesman
Dr. Gary G. Wiesman is an otolaryngologist who specializes in ear, nose, and throat surgeries. He embraces the latest procedures and advancements to provide his patients with superior care to restore their quality of life. He offers Balloon Sinuplasty to help with sinus dilation in Chicago. If you are ready to see if you are a candidate for the procedure, contact Wiesman Nasal & Sinus today to schedule your consultation for Balloon Sinuplasty.